Clean Show Success! Thank You for Visiting Our Booth!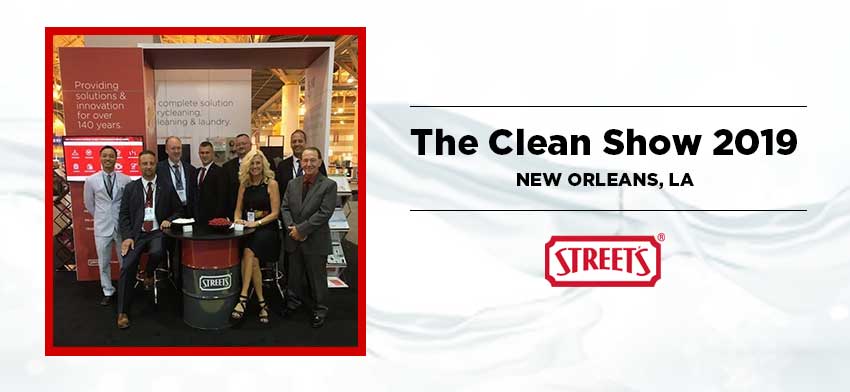 It was another great event for us at The Clean Show 2019, in New Orleans! It was a pleasure having the chance to meet those of you who were able to stop by our booth.
The Clean Show is the industry's largest, most important event. More than 10,000 people from across the nation and around the world come to the Clean Show to compare products and make buying decisions for laundry, drycleaning, and textile services industry.
This year, Street's featured some of its current brands of products, including our FLEX commercial laundry solutions and our expanded line of H2PRO wetcleaning products, designed to preserve and enhance the quality of fabric care processes.
We even launched and introduced, Street's INKTASTIC™, our newest technology in ink stain removal. This was an attendee favorite as they received a two-ounce sample bottle to try the product for themselves. Since then, we have been receiving great feedback on INKTASTIC's performance and results in removing difficult ink and dye stains. In addition to these great products, what received a considerable amount of attention was our innovative StreetSmart Dispensing Solution™, designed to provide precise product dispensing and detailed analytics in real-time for consistent output and quality wash performance—all accessible from Street's propriety and customizable dashboard.
We feel our presence at The Clean Show was a success as we were able to generate much buzz and excitement about our newest additions. We have since been busy with requests, and appreciate the interest in our products and services as we are committed to helping customers achieve efficiency and high-quality cleaning processes in their fabric care operation.
Again, we thank you for stopping by our booth. For those of you that were unable to attend, if you would like more information on any of our product solutions and how we are be able to bring value to your organization, submit your contact information for prompt follow-up.
We look forward to seeing you at the next The Next Clean Show!