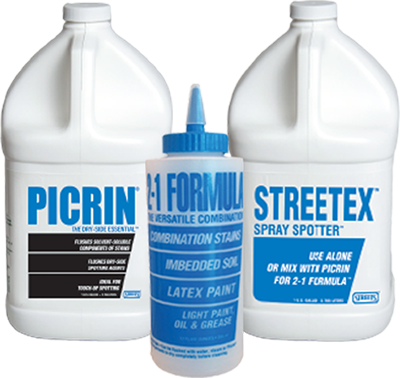 2-1 FORMULA®
Combination Wet-Dry Spotter
Stains can be water-soluble, solvent-soluble, or both, but the nature of a stain is not always easy to determine, making it difficult to decide which spotter to use.
When you don't know what caused a stain, don't waste time with trial and error spotting. Reach for 2-1 FORMULA. It's the versatile solution for a wide variety of stains and "mystery" stains, including latex and unknown paint stains foods, gravy sauces and soups, light oils, light greases, cosmetics, inks, oil-based paints, unknown stains and embedded soils on collars, cuffs, hemlines and drape linings. 2-1 FORMULA is safe to most fabrics and colors. If colorfastness is questionable, test garment in a hidden area.
PRODUCT INQUIRY
WE LOOK FORWARD TO HEARING FROM YOU!