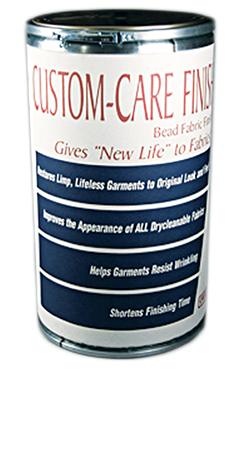 CUSTOM-CARE FINISH®
Beaded fabric finish for use in perchloroethylene and hydrocarbon solvent systems.
CUSTOM-CARE FINISH will restore limp, lifeless garments to the "just bought" look and feel. It contains a special formula which, when added to solvent, restores the vibrance to textiles that can be lost through wear and repeated cleanings. The result is not only a better-looking garment, but one that resists wrinkling and holds its press longer. CUSTOM-CARE FINISH not only revitalizes all drycleanable fabrics, all year round, it shortens finishing time.
PRODUCT INQUIRY
WE LOOK FORWARD TO HEARING FROM YOU!