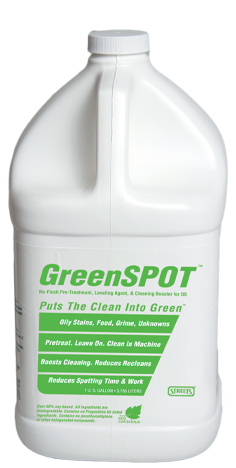 GreenSPOT®
No-Flush Pre-Treatment, Leveling Agent & Cleaning Booster for GreenEarth® Systems
GreenSPOT® is an effective pre-treatment designed to enhance stain removal and cleaning performance in GreenEarth® systems. It aids in the removal of unidentified and combination stains including: oily foods, cosmetics, inks, embedded soil and grime, and unknown stains.
GreenSPOT is designed as a no-flush pre-treatment; simply spray it on the garments and clean them in your machine without flushing on the board. It rinses stains out easily in the wheel without harming your system. GreenSPOT is safe to most fabrics and colors. If colorfastness is questionable, test garment in a hidden area.
PRODUCT INQUIRY
WE LOOK FORWARD TO HEARING FROM YOU!