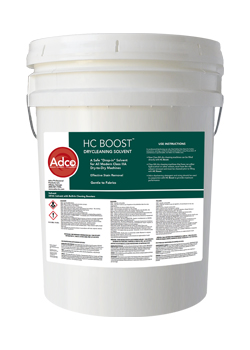 HC BOOST™
HFHC SOLVENT WITH BUILT-IN CLEANING BOOSTERS
A simple and affordable solvent for all modern Class 111 A hydrocarbon dry-to-dry machines, HC BOOST provides effective cleaning and excellent water-soluble soil removal. HC BOOST is gentle to most fabrics and trims. With reliable availability & quality and a price that is competitive with other combination-solvents, HC BOOST provides a dependable solvent solution that takes your cleaning  performance to the next level.
HC BOOST™, LIFT™, and Solvair® are trademarks of R.R. Street & Co. Inc. ExxonMobil and DF-2000™ Fluid are trademarks of ExxonMobil Corporation. EcoSolv® is a trademark of Chevron Phillips Chemical Company LP. GEN-X™ is a trademark of Caled Chemical. intense™ is a trademark of SEITZ Gmbh. Sensene™ is a trademark of SAFECHEM EUROPE GMBH
PRODUCT INQUIRY
WE LOOK FORWARD TO HEARING FROM YOU!