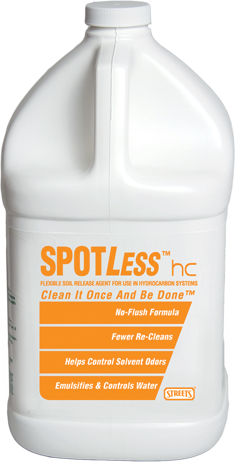 SPOTLess hc®
No-Flush Pre-Treatment, Leveling Agent & Cleaning Booster for Use in Hydrocarbon Systems.
SPOTLess hc is an effective no-flush pre-treatment designed to enhance stain removal and cleaning performance in high flash hydrocarbon (HFHC) and traditional petroleum systems. SPOTLess hc aids in the removal of many unidentified & combination stains, including: oily foods, cosmetics, inks, embedded soil & grime unknown stains. SPOTLess hc is safe to most fabrics and colors. If colorfastness is questionable, test garment in a hidden area.
PRODUCT INQUIRY
WE LOOK FORWARD TO HEARING FROM YOU!